How to Heal Dry Winter Skin Naturally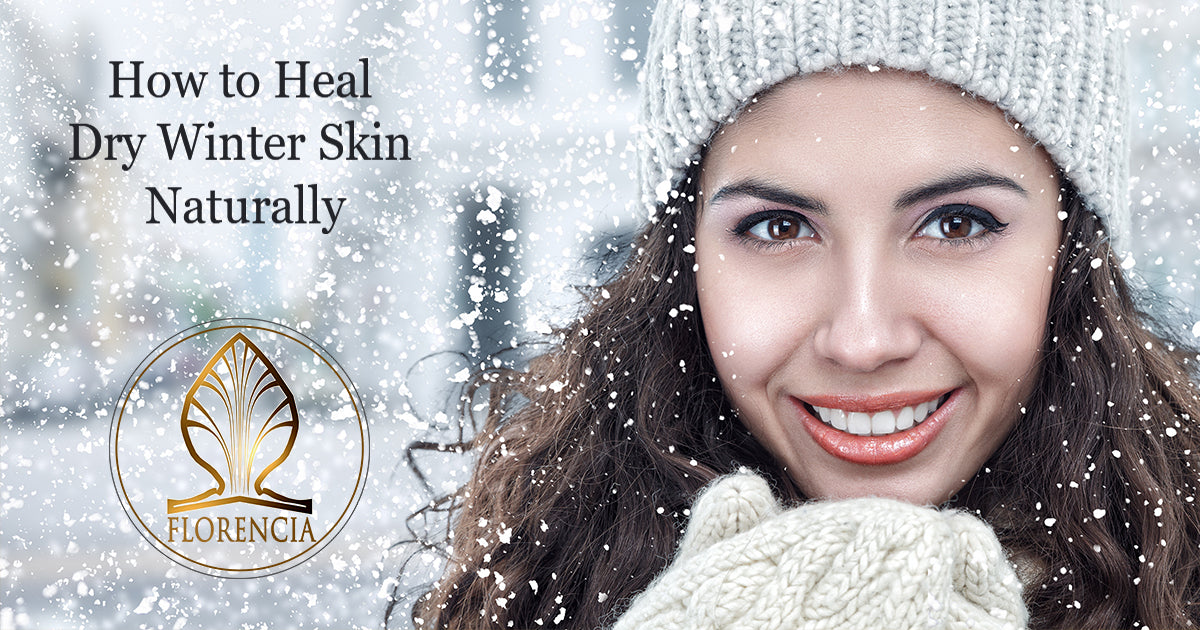 An Esthetician-Approved Winter Skincare Routine
 With Winter weather in full swing, your skincare routine needs an update to protect your skin from the harsh elements and changes in the barometer. How do you eliminate dry, itchy, irritated, flaky skin during the cold weather season? Here are simple product updates to heal winter skin naturally and keep your face glowing, balanced, soft and protected.
It can be confusing as to which skincare product to keep in the rotation year-round and which to store on the low shelf of the refrigerator until next season. Generally speaking, when the temperature drops, you are dealing with dryness which could lead to flakiness and irritated skin.
The key to alleviating winter dryness is to maintain a routine that still incorporates daily cleansing and gentle exfoliation; daily use of proper serum and moisturizing cream, as well as sun protection.
Daily cleansing is very important. But be selective. Choosing the right cleanser can have a major impact on your skin's condition. 
Switching out your morning cleanser for a soap-free hydrating one that contains gentle, natural plant-based ingredients specifically formulated to heal dry skin; and not strip your skin of your natural oils and moisture is the first step in your daily skincare routine. This simple, but important step can dramatically shift your skin from tight and dry to clean and supple without irritation.
Botanical Marine Gentle Cleanser 
This gentle soap-free gel cleanser provides deep cleansing, removes make up, and leaves skin feeling clean, refreshed, supple, and balanced without irritation.
An excellent choice for any skin type - especially sensitive skin, this non-foaming formula has anti-aging, soothing, and calming benefits. It contains powerful botanical extracts like Hibiscus Flower, Algae, Kiwi Fruit, and Rose Hips. Antioxidants, marine minerals, peptides and vitamins restore skin elasticity and promotes collagen synthesis.
Evening cleansing should focus on washing away the impact of the cold environmental factors, make-up, and stress of the day. When you have dry skin, it is important to use gentle exfoliating products. Exfoliation helps your skin to slough off that layer of dry cells, so your skin can absorb essential nutrients and hydration.
 AHA / BHA Refining Cleanser deeply cleanses and removes dead skin cells with help of Jojoba beads, Glycolic Acid, Lactic Acid, and Salicylic Acid which diminish fine lines and illuminate your skin, help to reduce acne marks and discoloration. Sodium PCA is an excellent natural humectant and a skin-replenishing ingredient. It attracts water to the skin to help it retain plumpness, to promote elasticity and function of the skin as a strong, healthy barrier.
 Always finish your cleansing with an application  of an appropriate toner to balance pH of your skin and improve the penetration of the serums and moisturizers. During harsh cold days, use toner that is formulated to hydrate your skin, seal in moisture and prevent dehydration. Traditionally, you don't think of moisturizing effect when you think of toners, but we have an special product designed for this purpose.
 Vital Balance Hydrant Toner   
This multi-tasking product replenishes moisture with hyaluronic acid and has anti-aging benefits derived from minerals, peptides, and amino acids. It fights dryness and dehydration and reduces the appearance of fine lines, wrinkles and hyperpigmentation. Perfect for ultra-sensitive skin, this toner actually calms and soothes the skin. This completely unique gel-like toner, not only balances the pH levels of any skin type – from oily to dry, but supplies your skin with powerful antioxidants, healing and nourishing natural ingredients, restores moisture, and prepares the skin to better absorb the nutrients of serums and moisturizers. If there is a holy grail of toners, the Vital Balance Hydrant Toner is it.
The next step of your daily cold weather routine is to fortify your skin's strength and radiance with hydrating and nourishing serums and creams.
Liquid Gold Nourishing Moisturizing Serum is the best natural, plant-based cocktail of botanical extracts that restores, hydrates and rejuvenates dry, sensitive, or damaged skin. Meadowfoam Seed Oil, Safflower Seed Oil, Chamomile, Cucumber Extract, Lavender Flower Extract hydrate, calms, soothes and protect the skin, while balancing oil production and locking in natural moisture. The outstanding qualities of this serum make it as valuable as gold. Hydrating and healing effects are immediate. This can be used before or after moisturizer.
Restorative Marine Moisturizer is a beauty essential that is a year-round staple for moisturizing, anti-aging, nourishing, restoring peptide creams for Dry, Dehydrated, Sensitive & Normal skin types. A combination of peptides and powerful botanical like Ginseng Extract, Gingko Biloba Extract, Rose Hips Extract and nutrients like CoQ10, Vitamins A, C, and E, this moisturizer delivers long-lasting hydration.
If you find you need more peptides with moisture in the Winter months, you may need to update your nightly moisturizer to the rich and creamy Ultra Peptide Cream. One of the best organic, nourishing, anti-aging, peptide moisturizers on the market. This luxurious moisturizer contains Matrixyl®3000, Sodium Hyaluronate, Olive Fruit Oil, Hydrolyzed Soy Protein, Jojoba Seed Oil, Bisabolol, Shea Butter, Hemp Seed Oil, Vitamins A, C, E and provides long-lasting, deep moisturization and nourishment.
Of course, you can't forget the delicate and dry eye and neck area. Another year-round staple, ALA Peptide Eye & Neck Lifting Cream by Florencia, uses a unique blend of Matrixyl® (Peptides), Alpha Lipoic Acid, Mushroom Extract, Vitamin K, Arnica & Green Tea Extract treat & hydrate delicate skin areas. The chosen botanicals reduce the appearance of wrinkles & dark circles, while lifting & firming the skin. The anti-inflammatory ingredients reduce puffiness, dark circles and fight-free radicals.
For times when your skin needs an extra boost of moisture and healing, adding a treatment mask twice a week will keep your skin radiant and glowing. To see more recommended products to manage winter dryness visit our Florencia Beauty Winter Skincare Collection.
Sampling products is crucial for discovering which formulas elicit the best response. At Florencia Beauty, we want you to discover the best essentials for your beauty regime so we offer samples here: https://www.florenciabeauty.com/collections/samples)
Michelle Florencia is a highly-experienced esthetician and creator of Florencia natural plant-based skincare. She is passionately devoted to providing the highest-quality products that not only heal and nourish skin naturally, but are free of unnecessary chemicals, artificial fragrances and colors. Florencia Beauty products are cruelty-free, paraben free and proudly made in the USA.
Make your skincare a healthy priority this year. Get our bi-monthly Natural Beauty Newsletter delivered straight to your inbox. Exclusive discounts, expert advice, insider beauty tips.
Sign up today on the upper right side of the page. P.S. We think Spam is ugly too! 
---