How to Hydrate Your Skin This Summer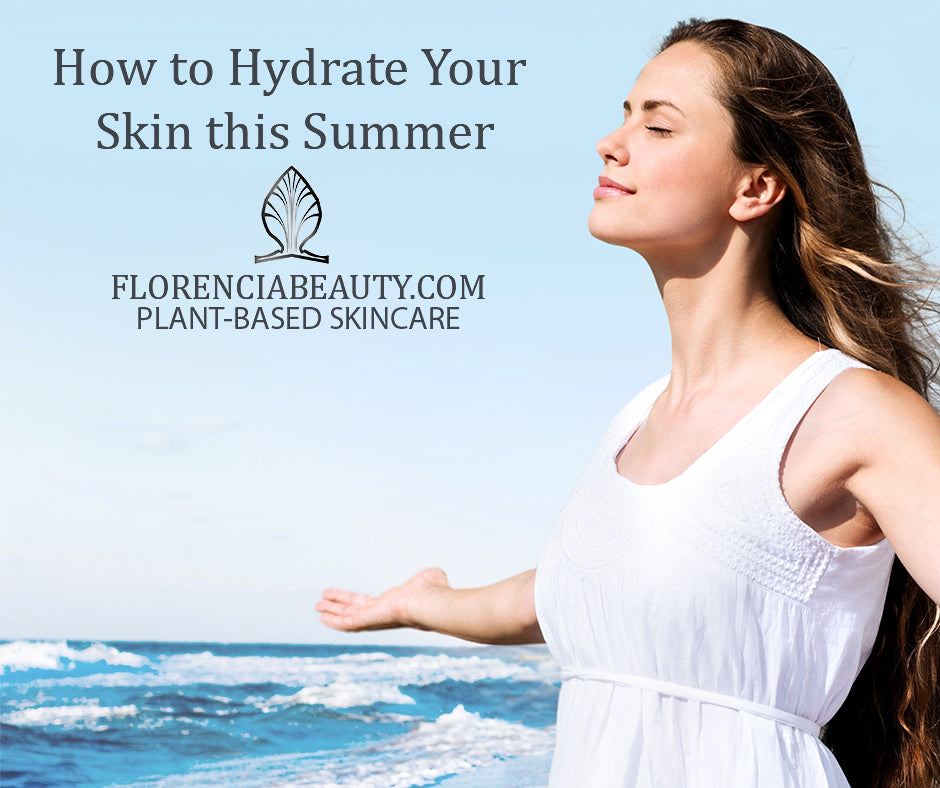 We wish there was such thing as an endless Summer with picnics and parties, beach strolls, family vacations, exotic foods, and lots of sun, salt, and heat. Unfortunately, with the sweetness of summertime also comes skin damage and dehydration that can leave your complexion like a pile of dried leaves come Fall. How can you save your skin this Summer?
Use Products That Target Dehydration
Preparing the skin for the loss of hydration during in the summer months means adding to your beauty arsenal proven products specifically formulated to tackle the challenges of maintaining summertime beauty. To combat sun damage, age-spots, collagen-breakdown, and lack-luster skin, your summer skin-saving mantra must be "hydrate and protect"  We covered the principles of proper skin protection in our last post How to Protect Your Skin This Summer. Now, for the second part of the formula for beautiful, resilient skin, we'll discuss hydration.
We have compiled a list of 4 natural & organic beauty must-haves to save, hydrate and restore your skin this Summer.
 4 Secret Weapons for Summer Skin Hydration
Summer heat and sun, never mind excessive sweating, can leave your skin parched. Drink plenty of water to replenish your skin's hydration from the inside. Be mindful that caffeine and alcohol deplete your body, and therefore your skin, of essential hydration. Fill your plate with seasonal organic fruits and vegetables full of vitamins and nutrients. 
For protecting your skin from damaging elements on the outside, here are the best natural & organic beauty products packed with natural, powerful botanicals for when the temperature rises.
Nature provides an abundance of elements that when used topically, can restore hydration without unnecessary chemicals. Science has provided effective ways to incorporate these natural elements into our beauty products. The key to restoring and retaining skin moisture, is to use plenty of moisturizing creams and hydrating, restorative facial masks. The added restorative and anti-aging benefits that these multi-tasking beauty concoctions deliver makes them top picks for the most essential skin-saving remedies.
Skin type: Dry, Dehydrated, Normal, Sensitive skin.
This unique, innovative formula is packed with powerful botanicals like Marine Algae Extract (antioxidant), Ginseng Extract (collagen production), and Rose Hip Oil (collagen production) that hydrate and treat the skin of face, neck and décolleté areas. It restores your skin's texture, tone, elasticity, firmness, radiance and clarity with Vitamins A, C and E and CoQ10 to help reverse sun damage. Soothes and protects irritated and dehydrated skin. Clinically tested to improve fine lines & increase hydration levels, collagen stimulation and firmness within 4 weeks. The combination of healing botanicals and restorative vitamins that address dehydration and sun damage make this an essential tool for summer skin.
 Lightweight Sage & Citrus Moisturizer
Skin Type: Oily, Acne-prone, Dehydrated, Normal
For those beauty addicts that want excellent hydration on the lighter side with a water-based oil free formula, the Sage and Citrus Moisturizer is the perfect hydration for thirsty skin.
Try this lightweight, hydrating, toning and nourishing cream with natural essential oils and extracts of sage, watercress and grapefruit. Natural botanicals of this oil-free moisturizer are balancing, conditioning and clarifying for the skin. A blend of antioxidants and vitamins brighten and improve skin elasticity. The unique water-based formula absorbs quickly, and skin looks healthy and radiant.
Skin Type: Good for All Skin Types
No matter what your skin type, the areas around our eyes and neck naturally have less oil glands, are delicate and the first places to show the signs of aging. These areas need extra care to stay hydrated and protected. In addition, these areas are prone to sagging skin. Who couldn't use a hydration and a lift around the neck and eyes? This multi-tasker cream does both.
 The highly effective ingredients in this "must-have" eye and neck cream helps to firm and hydrate the skin, reduces the appearance of fine lines, puffiness, and dark circles.
 With a unique blend of Matrixyl® (Peptides), Alpha Lipoic Acid, Mushroom Extract, Vitamin K, Arnica & Green Tea Extract to treat & hydrate delicate skin areas. The specially chosen botanicals reduce the appearance of wrinkles & dark circles, while lifting & firming the skin.
Skin Type: Sensitive, Dry, Dehydrated, Oily, Normal, Irritated
When you overdue it on the sun, salt and heat, sometimes regular moisturizing just doesn't suffice. When it is time to call in the reinforcements, having a "911" mask is the only thing that will salvage your skin. Our naturally blue Aloe and Azulene Gel Mask is loaded with calming, hydrating, and revitalizing botanicals that sooths irritated skin without an oily feeling.
Any type of skin will appreciate this unique hydrating facial mask, especially sensitive skin.  Apply this calming mask to hydrate, restore, and sooth your skin, enhancing elasticity and flexibility. The soothing effects of Aloe and Azulene reduce redness and irritation, while the refreshing essential lavender oil cools and heals the skin.
Florencia Beauty Offers Samples
Sampling products is crucial for discovering which formulas elicit the best response. At Florencia Beauty, we want you to discover the best essentials for your beauty regime so we offer samples here: https://www.florenciabeauty.com/collections/samples)
Special Discount Code Offer
We want to encourage you to protect and hydrate your skin this summer so we are offering a special discount code just for our readers. For a limited time, use code SUMMER15 for a 15% off discount on all of the products mentioned here. We wish you a marvelous and healthy summer!
---