A Natural Beauty Valentine's Day Gift Guide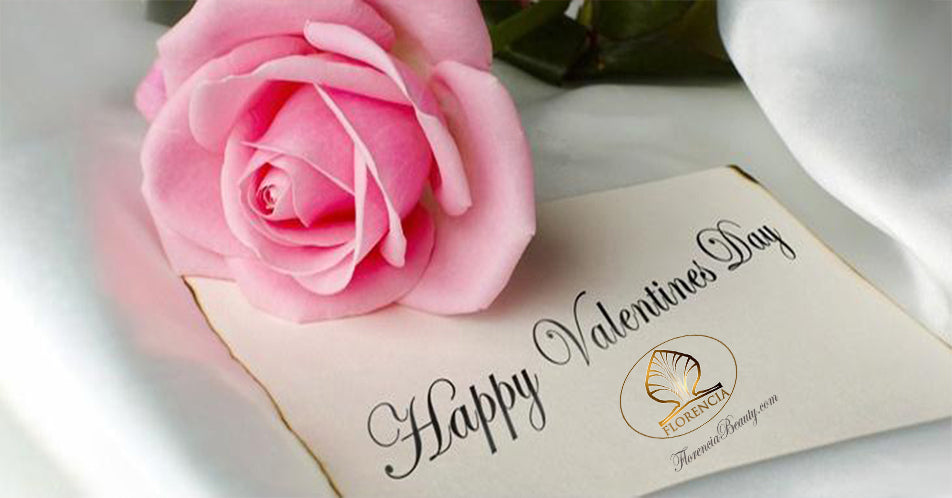 Valentine's Day is right around the corner and Love is in air. And of course, it is renowned for the beautiful roses and boxed chocolates that make us smile. But it has become much more than that. Valentine's Day has evolved into a celebration of love of all kinds. It is has become standard practice to not only gift your romantic partner, but also to treat your mother, sister, children, or beloved friends with tokens of your appreciation and affection. And while you're at it, since this is the Year of the Woman, why not empower yourself with #selfcare. It's the perfect day to say to yourself: "Be my Valentine!"
If you want to indulge yourself and your loved ones, we have you covered with a guide to some buzz-worthy, eco-luxe beauty options that are natural, plant-based, and affordable luxuries. A Valentine's Day gift to you from Florencia is 10% off on all Florencia natural, organic and vegan skincare and perfumes. Code: VALENTINE10
MAKING TIME FOR SELF CARE:
Every woman enjoys a little pampering. But how often during this crazy, busy life can you make time for that rejuvenating spa visit? Endless devotion to family and career leaves little time for self-care. Valentine's Day is the perfect time to give yourself a little escape from the grind.
So, take the first step in rejuvenating your mind and body. Indulge yourself with a home face and body treatment. 
Create a relaxing environment that appeals to all of your senses. Play some calming music, light a couple of candles, and pour yourself a cup of your favorite herbal tea. If you enjoy soothing aromatherapy, use an oil diffuser and some eucalyptus essential oil while you take a steamy shower. If you would rather soak in the bathtub, try lavender and orange essential oils a diffuser and a cup of Epsom salts in the bath water to relax the muscles and draw out toxins. Once you've created a peaceful environment, you're ready to start your luxurious at-home spa treatments. 
Let's start with the  Florencia Citrus & White Tea Blossom Body Polish to gently exfoliate your skin with this foaming body scrub. Create a spa-like aromatherapy experience with refreshing citrus notes of mandarin, orange pomelo, tangerine. Then experience slowly floating into subtle, yet sweet fragrances of calming white tea blossom, fresh melon, rose petals, and night blooming jasmine. Nourish and hydrate your skin with Florencia Jojoba Body Lotion.
Next: Renew, restore and rejuvenate with a facial treatment. Cleanse your skin with your favorite cleanser and begin with the Papaya & Pumpkin Brightening Exfoliating Mask.  A "Must-Have" at-home spa treatment, this exfoliating and softening facial mask is exceptionally gentle and effective. A smooth creamy cocktail of natural Papaya fruit enzymes, Pumpkin seed extract, and potent botanicals gently slough away dead skin cells, purify and renew the skin.
Follow with next step: Try these hydrating and restoring masks that are perfect for all skin types - even sensitive skin, so you can't go wrong.  Aloe & Azulene Soothing Mask is the best hydrating facial mask that delivers moisture without heavy oily feeling. Hydrate, restore and soothe your skin with this unique naturally blue gel mask formulated with a blend of botanical extracts and essential oils. Moisturizing mask designed to prevent and treat dry skin. Drift away with light and relaxing aroma of lavender.
Finish your home facial with toner and moisturizer.
Your at-home treatments are just long enough to calm the nerves, lift the spirits and pamper the skin without sacrificing your entire day. 
FOR THE BEAUTY ADDICT:
Everyone has that girlfriend that reads all the beauty magazines, is obsessed with skincare and actually reads the ingredient list on all of her products. Chances are she doesn't have a toner like this in her beauty collection. This multi-tasking product will upgrade anyone's skincare regimen and add an extra layer of nourishing moisture with Lavender Oil, Ginseng Root Extract, Glycoproteins (Algae), and Aloe Vera Leaf Juice.
Vital Balance Hydrant Toner Perfect for ultra-sensitive skin, this toner actually calms and soothes the skin. This completely unique gel-like toner, not only balances the pH levels of any skin type – from oily to dry, but supplies your skin with powerful antioxidants, as well as healing and nourishing natural ingredients. It restores moisture, and prepares the skin to better absorb the nutrients of serums and moisturizers.
FOR THE ROMANTIC:
A little drop of happiness. It is scientifically proven that our olfactory system is directly connected to our memories and emotions which is why bestowing our betrothed with perfume is a Valentine's Day favorite. There are few gifts more romantic and emotional than luxuriously crafted perfume.
Make Valentine's Day truly special and memorable with this unique curated collection of finely-crafted perfumes. As a truly remarkable gift for yourself or for those you love, this complete Life is Beautiful Perfume collection celebrates every woman with a quintessential fragrance to compliment and capture the journey of life's multi-faceted occasions, moods, and moments. Our award-winning composition includes bright and uplifting Citronné, spicy and exotic Épicé, floral and feminine Fleuri, elegant and addictive Fruité, and comforting and alluring Velluto.
Because these perfumes are created with the finest natural fragrance oils and absolutes that require contact with the skin to elicit their melody of notes, each composition becomes an entirely unique experience to the woman wearing it – making these truly personal gifts.
Happy Valentine's Day!
Make your skincare a healthy priority this year. Get our bi-monthly Natural Beauty Newsletter delivered straight to your inbox. Exclusive discounts, expert advice, insider beauty tips.
Sign up today on the upper right side of the page.

---